It's a bummer that there weren't enough tickets to meet the demand for the inaugural Rails World, but it's a remarkable testament to the renewed energy in the Rails community.
An energy that I've found at the many new and returning regional Ruby/Rails conferences that have popped up.
In my experience, since they're smaller, they can:
Book more interesting venues
Focus on providing a remarkable overall experience
Prioritize the "hallway track."
Quickly build a sense of community.
Below I've listed every Ruby/Rails conference I could find and tried to pull out some of the unique and interesting ways that the organizers are boosting the community with their efforts.
Two outstanding examples that I can speak for personally are RailsSaaS and Blue Ridge Ruby both of which provided a tremendous overall experience.
All the Rails/Ruby Conferences
Note: I've included conferences that have already passed as if you'd like to attend them, you'll need to get on their mailing lists now, as they're also likely to sell out.
Brighton Ruby 2023 - Igniting Ruby Passion in Brighton, UK
Website: Brighton Ruby 2023
Attendee Size: 700 attendees
Single Track: Yes
Topic: Ruby
Date: June 30th
Location: Brighton, UK
I've had the chance to speak with the organizer Andy Croll a few times, and he's a great voice in the community and you can tell he really cares about making everything he works on great.
The folks at Cleo wrote up their experience at Brighton 2022 and I was impressed with how much practical information they were able to take away.
Ruby for Good - Making a Positive Impact in Fairfax, VA (DC)
Website: Ruby for Good
Attendee Size: 50
Single Track: Yes
Topic: Ruby
Dates: July 27th - 30th
Location: Fairfax, VA (DC)
I find Ruby for Good's premise really intriguing: as it's not exactly a conference; it's more of a coding jamboree where folks come together and contribute to meaningful projects development projects.
With a focus on using Ruby for social good, attendees collaborate on open-source projects to support nonprofits and community organizations. This unique event combines learning, coding, and giving back, fostering a sense of purpose within the Ruby community.
Wroclove.rb - Uniting Rubyists in Wroclaw, Poland
Website: Wroclove.rb
Attendee Size: Small
Single Track: Yes
Topic: Ruby
Dates: September 15th - 17th
Location: Wroclaw, Poland
Something I'm always interested in seeing is that other languages and frameworks are up to (good ideas can come from anywhere) and it's impressive to me that Wroclove has baked this into their organizing principles for the conference:
Wroclove.rb serves best to people who are already fluent with Ruby. The ideas presented at our conference are very advanced. They are meant to inspire the way we write code, the way we help our clients and users. It's not uncommon for us to present you ideas that come from the Java and .NET worlds, we believe that their ideas can have a great influence on our community. There are good reasons, why our conference is called "the best Java conference in the Ruby world".
Rails Camp West - Rails in Paradise
Website: Rails Camp West
Attendee Size: 75
Single Track: Yes
Topic: Ruby/Rails
Dates: September 15th - 18th
Location: Oahu HI
Rails Camp West feels like it takes the "hallway track" to the beach. I really like their concept (and what a stunning location). I've never been, but I've heard great things.
Also, if you're looking for a tax-deductible vacation, you could do a lot worse than the North Shore of Oahu. Consider that it will probably be around 16C/61F in Amsterdam at RailsWorld, while in Oahu, the Rails Campers will be enjoying sunny 26C/80F breezes.
Euruko 2023 - Celebrating Ruby in Vilnius, Lithuania
Website: Euruko 2023
Attendee Size: 700
Tracks: Three
Topic: Ruby
Dates: September 21st - 23rd
Location: Vilnius, Lithuania
Euruko's celebrating its 20th conference this year in Vilnius, Lithuania.
Designed as a "traveling" conference - every year, it's held in another city (2022 was in Helsinki, Finland). There's a large emphasis on the overall experience and the expert speakers.
Something else that's distinctive is their pay-what-you-want online tickets - to draw in a larger audience.
As a bonus, the Euruko folks reached out with the following message: "If you were hoping to go to RailsWorld but couldn't get tickets, don't worry. Euruko has got you covered with a special offer. We have a limited number of discounted tickets available, offering a 20% off. Just use the code "HELLOWORLD" to secure your ticket."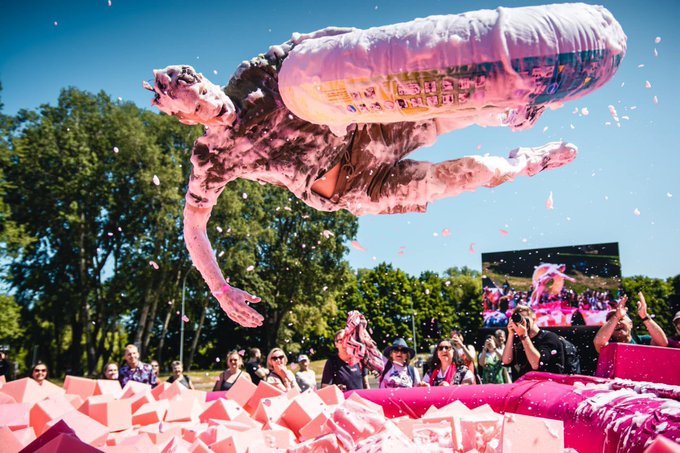 Friendly.rb - A Friendly Ruby Conf
Website: Friendly.rb
Attendee Size: Small
Single Track: Yes
Topic: Ruby
Dates: September 27th - 28th
Location: Bucharest, Romania (aka "Little Paris")
Friendly.rb explicitly is aiming for a very calm and relaxed conference (which I can appreciate)
Note: both Jason Swett (organizer of Sin City Rails) and Jeremey Smith (organizer of Blue Ridge Ruby) are speaking, so the lineup is great.
Rocky Mountain Ruby - Exploring Ruby in the Heart of Boulder, CO
Website: Rocky Mountain Ruby
Attendee Size: 150
Single Track: Yes
Topic: Ruby
Dates: October 5th - 6th
Location: Boulder, CO
CFP Date: June 30th
CFP Link: Rocky Mountain Ruby CFP
If you haven't been, Colorado is just a really cool state, and Boulder, CO is fairly undeniably the coolest city in Colorado. (Suck it Golden).
Rocky Mountain Ruby offers a unique experience for Ruby enthusiasts in the picturesque setting of Boulder, Colorado. With a limited number of attendees, this conference creates an intimate environment for deep discussions, networking, and collaboration with very little chance of succumbing to altitude sickness.
Bonus: if you already took off the days for Rails World. Rocky Mountain Ruby takes place at nearly the same time.
Ruby Conf 2023 - A Premier Ruby Gathering in San Diego
Website: Ruby Conf 2023
Attendee Size: 600
Single Track: No
Topic: Ruby
Dates: November 13th - 15th
Location: San Diego
Ruby Conf is one of the largest and most prestigious Ruby conferences, drawing Ruby enthusiasts from around the world. With a diverse range of sessions, workshops, and activities, Ruby Conf offers something for everyone, whether you're a beginner or a seasoned Ruby developer.
Taking place in the beautiful city of San Diego, this conference promises a memorable and enriching experience for all Ruby enthusiasts.
Helvetic Ruby 2023 - Celebrating Ruby in Bern, Switzerland
Website: Helvetic Ruby 2023
Attendee Size: Small
Single Track: Yes
Topic: Ruby
Date: November 24th, 2023
Location: Bern, Switzerland
Helvetic Ruby is a new Ruby conference (and the first Swiss Ruby conference!) that takes place in the charming city of Bern, Switzerland.
You wouldn't know that this was their first conference as they've got a great lineup of very interesting speakers covering bootstrapping, Ractors, and 0 to 1 billion level scaling.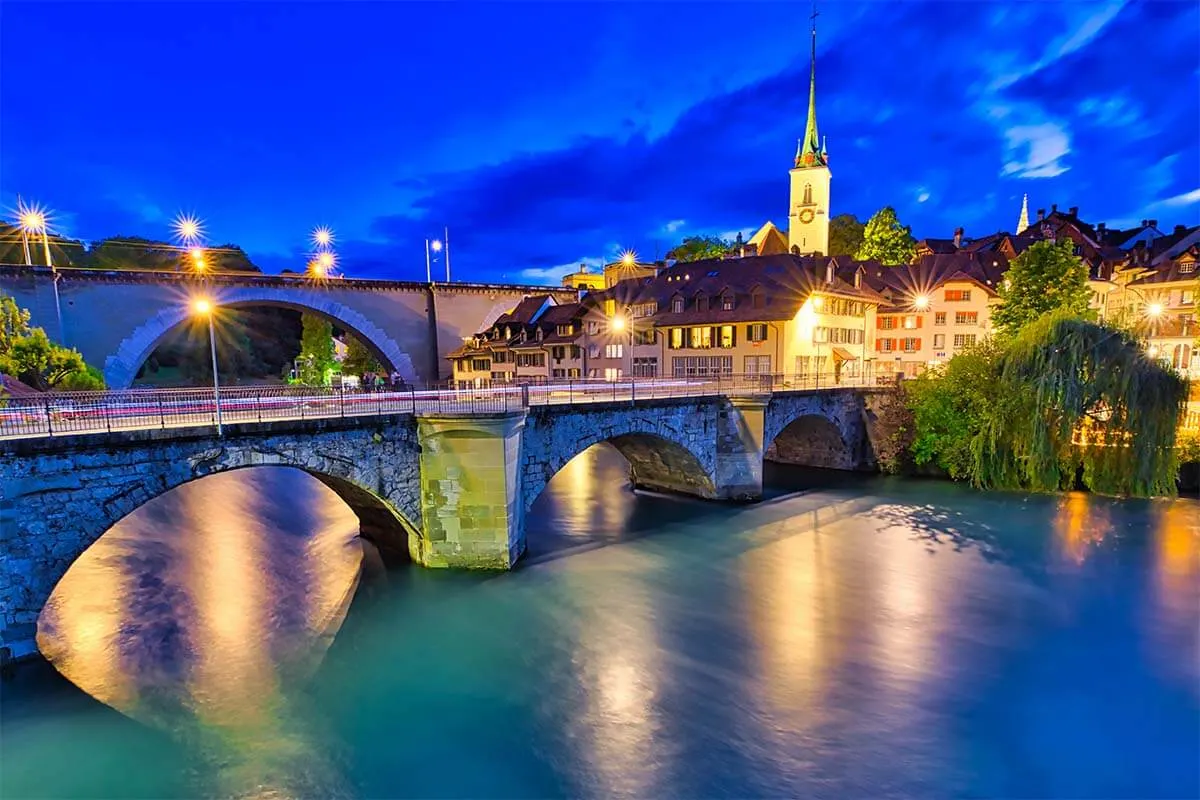 Sin City Ruby - Unleashing Ruby Magic in Las Vegas
Website: Sin City Ruby
Attendee Size: 100
Single Track: Yes
Topic: Ruby/Rails
Dates: March 21st - 22nd, 2024
Location: Las Vegas
Sin City Ruby is a conference that combines the excitement of Las Vegas with the magic of Ruby and Rails. You haven't experienced ```Random.srand``` until you've lost $10,000 at an Angry Birds slot machine, and the casino manager takes you into a back room to "discuss" payment.
Southeast Ruby - Embracing Ruby in Memphis, TN
Website: Southeast Ruby
Topic: Ruby
Location: Memphis, TN
Southeast Ruby is a gathering of Ruby enthusiasts in the charming city of Memphis, Tennessee.
While there are no details about the conference (not even a date), I'm looking forward to it based solely on having always wanted to visit Memphis.
Rails Conf 2023 - Uniting the Rails Community in Atlanta
Website: Rails Conf 2023
Attendee Size: 900
Single Track: No
Topic: Rails
Dates: April 24th - April 26th
Location: Atlanta
CFP Date: February 24th
CFP Link: Rails Conf 2023 CFP
Rails Conf 2023 took place in Atlanta. I didn't get to attend, but what I heard from many attendees was that it was a wonderful opportunity to see folks in the community that they'd only previously known online and reconnect.
Ruby Kaigi 2023 - Unveiling Ruby's Future in Nagano, Japan
Website: Ruby Kaigi 2023
Attendee Size: 1200
Single Track: No
Topic: Rails
Dates: May 11th - May 13th
Location: Nagano, Japan
Ruby Kaigi is likely the largest Ruby conference on the planet, one of the most significant Ruby conferences globally, and was held in the scenic city of Nagano, Japan. With a massive gathering of Ruby enthusiasts, this conference offers a platform to explore the future of Ruby, discuss its latest advancements, and share experiences.
Sidenote: Ruby Kaigi's graphic design every year is stunning. Check out their gallery of Past Kaigis.
Blue Ridge Ruby 2023 - A Rails-Focused Gathering in Asheville, NC
Website: Blue Ridge Ruby 2023
Attendee Size: 175
Single Track: Yes
Topic: Rails
Dates: June 8th - June 9th
Location: Asheville, NC
CFP Link: Blue Ridge Ruby CFP
This took place in one of the most fantastic, most magical-looking venues.
The talks were great, and there was just so much energy, some highlights:
Drew Bragg's Weirdo Ruby Game Show
Impromptu "Giving Thanks" session where people had an opportunity to thank people who had gotten them into the community or who had created impactful open-source projects.
Going tubing on the river with 20 other devs (pro tip, look out for the "Snake Farm" - that's not a joke, there's a bridge graffiti with "Snake Farm," and if you miss it, you miss the pickup spot).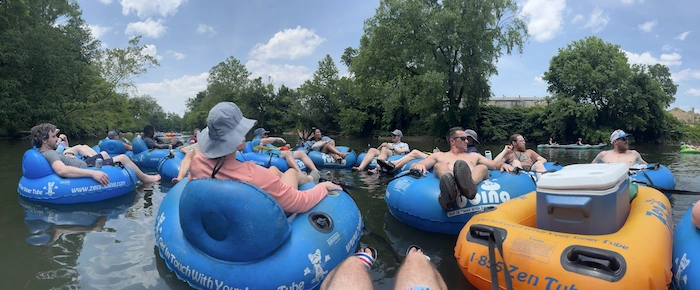 Disclaimer: we (Wafris) sponsored the conference, and by sponsoring, I mean that we bought everybody artisanal ice cream sandwiches (again, not joking).
RailsSaaS 2023 - Business Rails in LA + Athens
Website: RailsSaaS
Attendee Size: 100
Single Track: Yes
Topic: Rails
Dates: June 1st - June 2nd
Location: Athens, Greece
Andrew Culver put on Rails SaaS LA in the heart of Los Angeles, and it was an absolute blast. If you're involved with running a SaaS + Rails, definitely attend, but even if you're not, there's still tremendous value as it attracts the folks tackling extensive real-world services and issues with Rails, and it's great.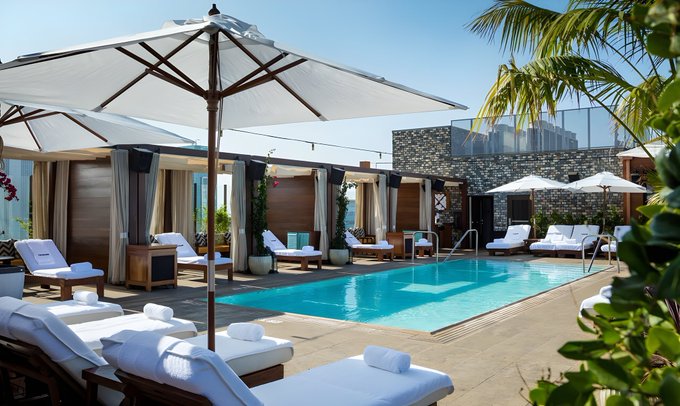 Highlights:
Hanging out on a restaurant patio disguised as a pawn shop.
I accidentally stumbled into a Star Wars-themed bar ("The Scum and Villany") to find that it was aspiring actor cosplay karaoke night and hanging out with several special effects folks.
Ruby Awards for contributions to the community (what a great idea).
Note: If you check out the site right now, it's pointing to their most recent conf in Athens, Greece, which if anything, looks even more awesome.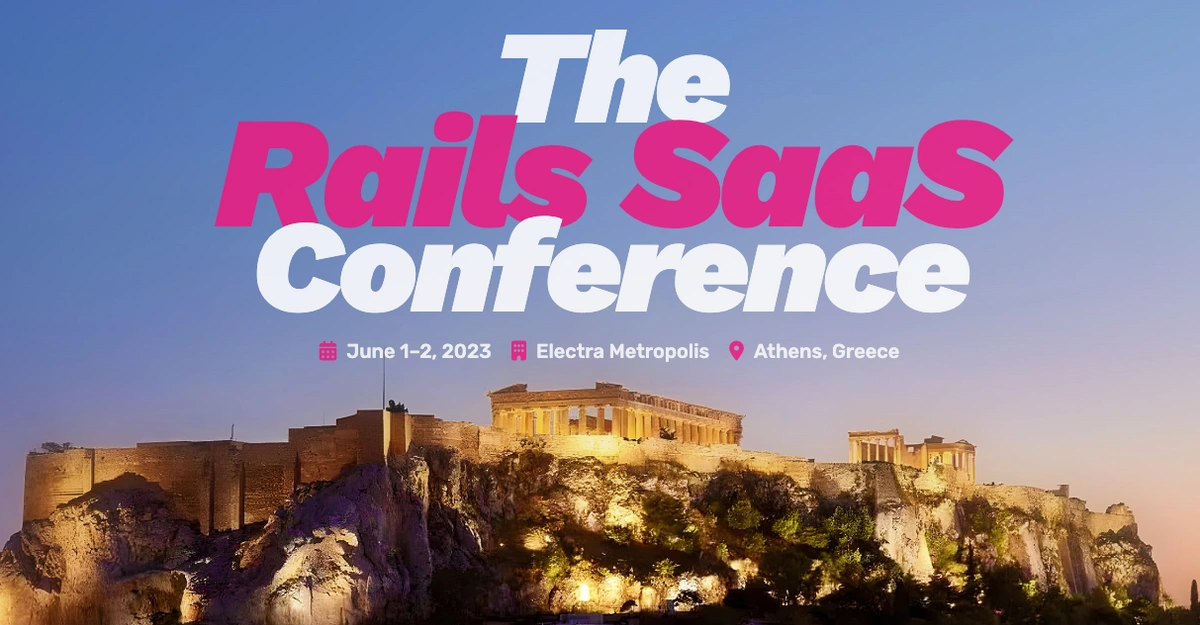 Ruby Unconf 2023 - A Community-Driven Ruby/Rails Event in Hamburg, Germany
Website: Ruby Unconf 2023
Attendee Size: 200
Tracks: 2 tracks
Topic: Ruby/Rails
Dates: June 10th - June 11th
Location: Hamburg, Germany
Ruby Unconf is an unstructured conference where the attendees themselves determine the agenda. With two tracks covering both Ruby and Rails, this community-driven event fosters an open and collaborative environment for learning and sharing knowledge. In the vibrant city of Hamburg, Germany, Ruby Unconf promises to be a unique and inclusive gathering for Ruby and Rails enthusiasts. These are just a few examples of the diverse regional Ruby/Rails.
Ruby Day 2023 - Celebrating Ruby in the Heart of Verona, Italy
Website: Ruby Day 2023
Attendee Size: Small
Single Track: Yes
Topic: Ruby
Date: June 16th
Location: Verona, Italy
CFP Date: March 15th
CFP Link: Ruby Day 2023 CFP
Ruby Day 2023, a one-day conference celebrating the Ruby programming language will be held in the enchanting city of Verona, Italy. Despite its small size, this event promises an intimate and engaging experience for Ruby enthusiasts.
Ruby Day is an opportunity to deepen your knowledge, connect with fellow Rubyists, and appreciate the beauty of Verona while celebrating the language we all love.